Symposium "Israel's 70th Anniversary: Insights and Perspectives. Politics - Culture - Religion", 12th November 2018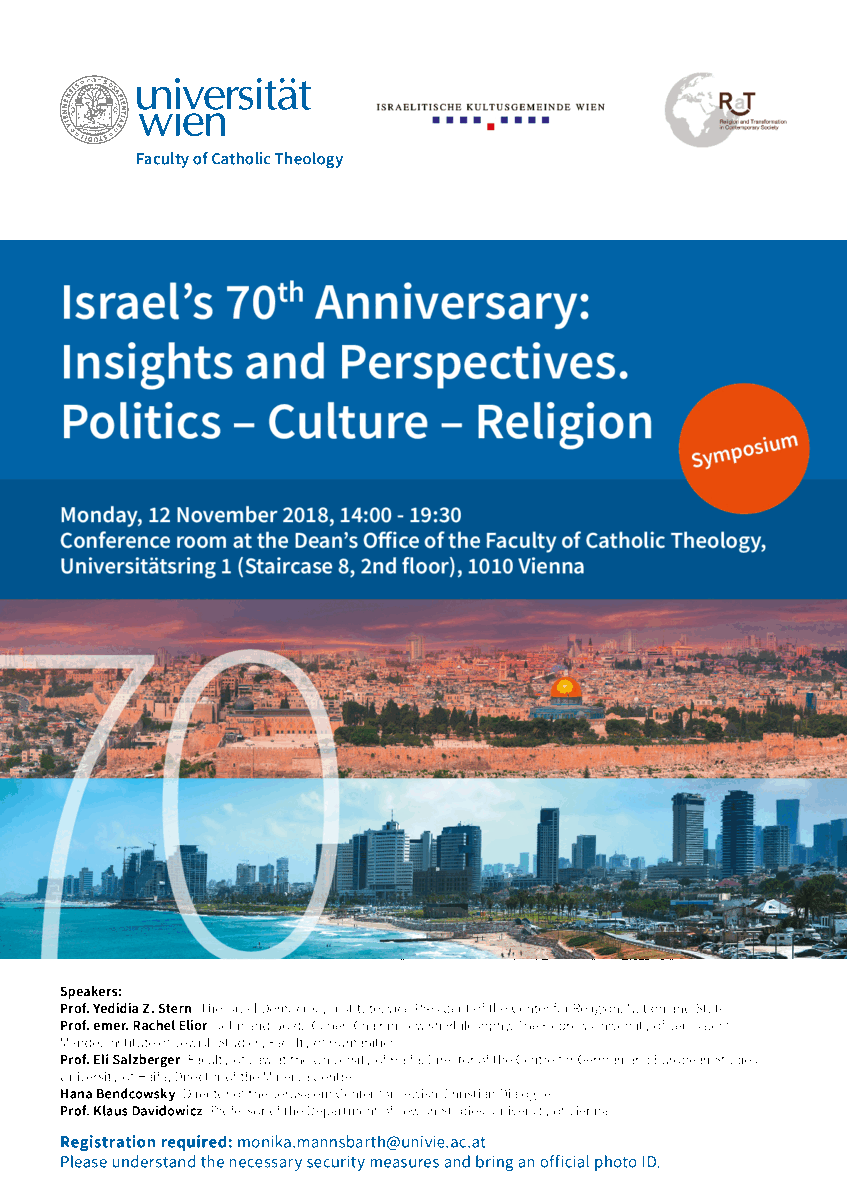 Symposium "Israel's 70th Anniversary: Insights and Perspectives. Politics - Culture - Religion", 12th November 2018
The Research Centre RaT and the Faculty of Catholic-Theology in cooperation with the Israelitische Kultusgemeinde Wien organize the symposium "Israel's 70th Anniversary: Insights and Perspectives. Politics - Culture - Religion".
The Symposium will be held on the 12th November in the conference hall of the dean's office of the Faculty of Catholic-Theology at the University of Vienna, Universitätsring 1, 1010 Vienna.
Contributors:
Prof. Yedidia Z. Stern, The Israel Democracy Institute, Vice President of the Center for Religion, Nation and State
Prof. emer. Rachel Elior, John and Golda Cohen Chair in Jewish Philosophy, The Hebrew University of Jerusalem, Mandel Institute of Jewish Studies, Faculty of Humanities
Prof. Eli Salzberger, Faculty of Law at the University of Haifa, Director of the Centre for German and European Studies, University of Haifa, Director of the Minerva Centre
Hannah Bendcowsky, Director of the Jerusalem Center for Jewish-Christian Dialogue
Prof. Klaus Davidowicz, Professor of the Department of Jewish Studies, University of Vienna
A registration is mandatory: monika.mannsbarth@univie.ac.at
Please understand the necessity for bringing an authorized photo ID for security reasons with you.
For press issues, please contact regina.polak@univie.ac.at